G'day Rogainers,
NSW Rogaining eNewsletter, 21st Jan 2022
Click here to view this email in your browser.
Compiled by Trevor Gollan
---
Quick Thoughts - From Present Trev
It's been six months since we last issued a newsletter, linked to the abandonment of all events after the very successful Paddy Pallin 6-hour in June. It's a pity and stressful for the people who created courses for the second half of 2021, but their efforts are not wasted … even the NSW Champs near Bourke which have now been deferred twice will proceed this year.
Given the moving-forward, "let-it-rip" policy of our governments we are cautiously confident that all scheduled rogaines will proceed this year, so check out our calendar, keep up your long walks/runs, and enjoy the diverse range of events on offer in 2022.
Thankyou to Salome Hussein for not stepping backwards when I asked for volunteers to run the first event this year – the 3-hour Minigaine – and to Chris Stevenson for taking the coordinator's reins.
At this year's Minigaine, immediately after the presentations at the hash house, we will hold the NSWRA Annual General Meeting, including a review of the past 12 months, financial status and election of officers.
Feel free to join the meeting, and especially feel free to nominate yourself for the committee. We always need new vigour and renewal.
---
3-hour Minigaine "Cherry Pye-gaine", Sunday 27th Feb 2022, 9AM Start
Our first event for the year will be based at Cherrybrook, in the Hills district. Check the event website for more info and Entry.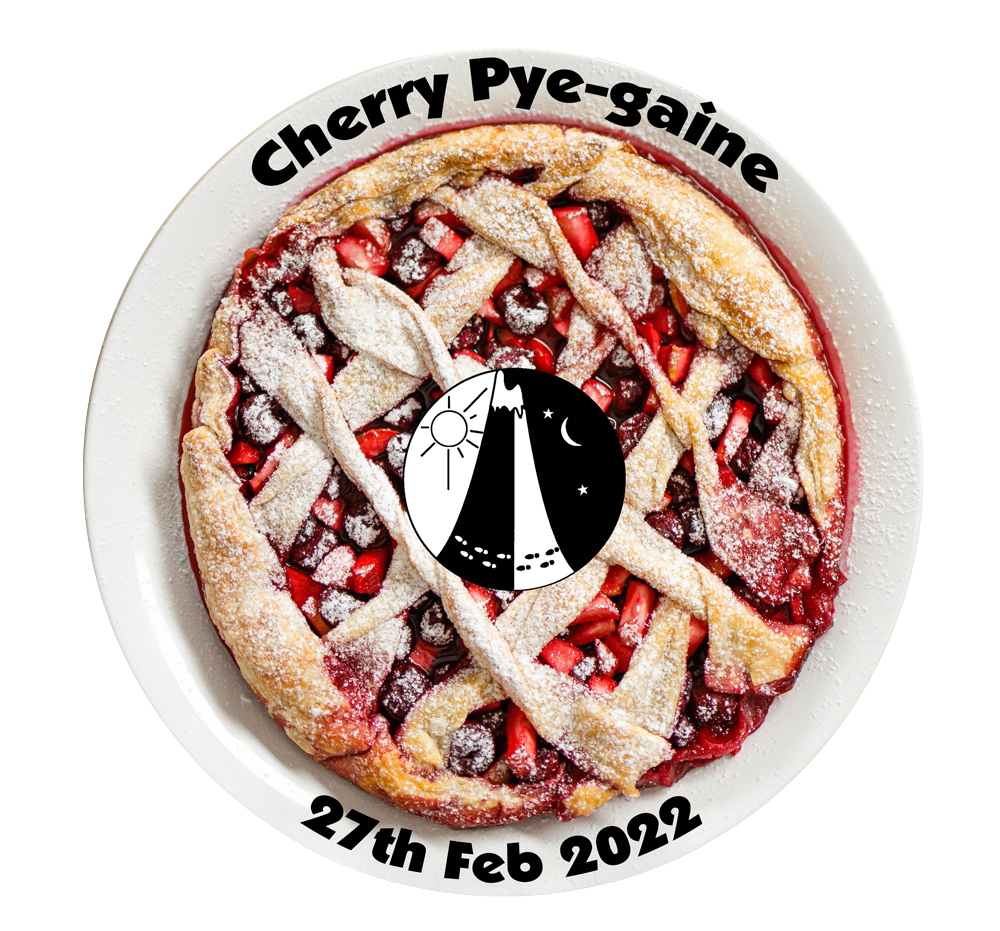 According to our event organisers, "Cherrybrook is a great place for the 3hr minigaine. The suburb is encircled by picturesque walking tracks and the east of the course will take in some beautiful country and some tricky navigation.
Places and routes such as the Callicoma Walk, The Jungo, the Blackwattle trail, the Cascades and the Lakes of Cherrybrook will all be competing for your attention.
Your one regret will be that you only have three hours to explore it all."
And perhaps someday we will learn why "Pye" has a "Y" in it.
---
Minigaine Muster (by Julian Ledger)
First referred to as a Mini Metrogaine, the 3-hour Minigaine had its origins in NSW in what was billed as an Xmas Social event around the George's River. A last-minute addition to the calendar, Mike Hotchkis set a course that was quick and easy for him to create, not intending it to become a popular, regular fixture. The rules allowed for tactical use of the train on the Illawarra Line between Jannali, Como and Oatley. Gill Fowler followed up a decade later, at Manly Dam, from which there was popular demand to repeat the dose annually.
The first Minigaine was on a 1:25,000 map but in 2011 and for the next few years the scale went to 1:10,000. If regular Minigainers have since under or over-estimated their route in course planning then consider the following. In 2016 the Wolligaine was 1:12,500 whilst the following two years were 1:15,000 and then in 2020 on the Northern Beaches 1:20,000. Last year it was back to 1:15,000.
I have inside knowledge that the 2022 map is shaping up at 1:15,000 under the skilled hand of mapper Hamish Mackie. Also, that the Hills District of Sydney is so named for good reason. Unique among NSW rogaines, being shorter and primarily urban, our Minigaines include the option of individual entry, which has been appreciated by many. (No need to cast aspersions on teammates for navigational blunders or lack of fitness.) In 2012 and 2013 the Minigaine doubled as an event on the Orienteering Sydney Summer Series program bringing in faster and keener navigators to the level of competition. Today it's independent of the Summer Series but the level of competition has continued, together with a strong element of family and social rogaining suited to the warm conditions expected for the time of year.
Good luck all at the 2022 Minigaine, and here's the list of all NSW Minigaines thus far:

1998 Xmas Social George's River
2010 Short and Sweet Manly Dam
2011 River Rumble Lane Cove
2012 Minigaine Madness Lindfield
2013 Spectacular Sydney Harbour Mosman
2014 Boardwalk Bonanza East Ryde
2015 Bell Birds Kincumber
2016 Wolligaine Earlwood
2017 Wanda the Shire Cronulla
2018 Hawkesbury Skygaine Scheyville National Park
2019 Western Sydney Parklands Abbotsbury
2020 Head-to-Head Narrabeen
2021 Contouring Killara Upper North Shore
---
6-hour Metrogaine, "LaneCoveRivergaine IV", Sunday 3rd Apr 2022, 10AM Start
Ted Woodley has been steadily creating rogaining courses down the length of the Lane Cove River. This year we welcome the fourth and final part of his grand project, to be based at North Sydney. This is one of those events that was deferred in '21 due to Covid restrictions, so a special thanks is owed to Ted for his persistence.
Watch the event website for more info, and note that entries will open in February.
---
Can You Help?
We've been approached by a private school who would like us to organise a 4-hour rogaine for them on the Newnes Plateau on the first weekend in April. They have a camp & team-building week based near Lithgow and, inspired by last year's Paddy Pallin, would like to create a similar course for their teenage students.
It will coincide with our Lane Cove event, so you will need to use our old flags with the staple punches… remember them?
Please contact President Trev (president@nswrogaining.org) if you are willing and able to set the course and manage the event. The school will pay for your time and effort.
---
Map Archives

Julian Ledger and Chris Stevenson have been collecting old maps, specifically, NSW rogaining maps.
At end of last year, Chris reviewed the situation thus: "Thanks very much to Peter Tuft for his efforts in scanning and sending me some missing maps. Peter even sent us a couple of relevant maps that pre-date the formation of NSW Rogaining. Our list of missing maps is now down to three:
1983 12 hr at Armidale
1988 12 hr at Wingen
1988 NSW Champs at Hampton"
You can access the collection here. There's 197 maps currently in the Archive, and that doesn't include events after 2018, which you can find in the Past Events section of our website.
Well done to Julian and Chris for their labours and persistence.
---
Find us on Facebook and Strava here.
Regards,
Trevor Gollan
on behalf of the NSW Rogaining Committee
publicity@nswrogaining.org